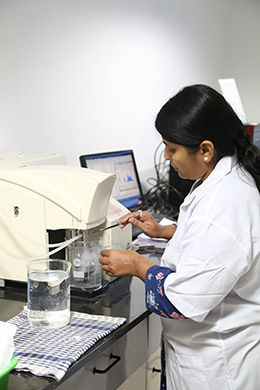 Industrial demands are fast changing. To ensure that these demands are addressed in the most fitting manner, the Company is widely investing in the research and development activities. The Company passionately explores opportunities for new product developments that can successfully cater to these growing demands. A dedicated R&D Center with the services of experienced and competent Chemists, Geologists and Engineers is a focal point of innovation from 20 Microns Nano Minerals.
We align our research and innovation portfolio, being an integral part of our core strategy and is a key element of the internal growth. We design new processes, technologies and products, with our innovation approach by understanding our customers' businesses and solving their technical problems, by also meeting their expectations and anticipate their needs.Constantly improving these properties to help the customers meet new challenges is the goal of our innovation strategy.
20 Microns Nano is not only recognized for its exceptional quality products, but also for its efficient and instant technical services. The technical team is professionally trained in Paper, Paint, Plastic, Foundry, Construction, Civic Engineering & Piling, Iron Ore Pelletization, Rubber, Ceramic and other industries. On any on-demand request, our team provides backup, technical assistance and conduct trials in customers' own production units.
Today, 20 Microns Nano is renowned for innovative products catering to a wide spectrum of industry across the world. With the best manufacturing units, state-of-the-art R&D center and efficient technical assistance, 20 Microns Nano is all poised to revolutionize nano minerals industry.
Quality Policy
At 20 Microns Nano Minerals Laboratory is well equipped with the most advanced quality control instruments to produce minerals of highest standard of quality and consistency. The technique used for measurement of various important properties involves a series of procedures. The system are divided into main areas-daily production dispatch sample analysis, inspection of stock and data monitoring. 20 Microns R & D and Quality control Laboratory have some of the most well trained and experienced Chemists, Geologists and Engineers to study the needs of customers, undertake continuous product upgradation and improvement and maintain consistency in quality.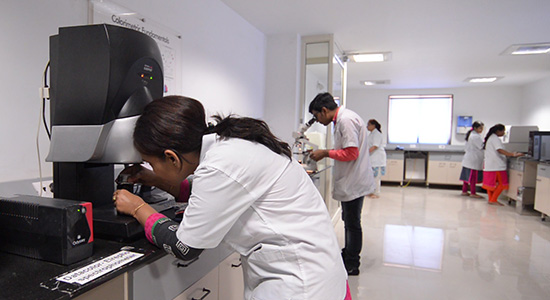 Manual Sorting to recover maximum white ore.
Analysis of Chemical Properties - before dispatch to work.
Particle Size Analysis.
Test for physical properties like Bulk Density, Oil Absorption, Brightness etc.
Testing of Hydrophobicity, Oil Absorption and Uniformity of Coating.
Each supply carries a Quality Test Certificate certifying values within specifications.
XRD & Electron Microscope-Analysis.